Sancken Automotive Inc in Eureka For Heavy Duty Construction and More
When it comes to maintaining heavy-duty trucks, construction, mining or farming equipment, time is money. Sancken Automotive Inc in Eureka is the preferred provider of maintenance and repair services for heavy-duty trucks and equipment. From in-cab climate control to diesel engine repairs, we offer local, regional and cross-country services.
With properly tracked and scheduled planned maintenance, Sancken Automotive Inc keeps your heavy duty vehicles on the move. But, if your heavy duty vehicle breaks down, we will get it back up and running fast and affordably with our mobile response team, cost reduction controls, and a large inventory of parts. Call us today at
309-467-2422
!
[HD_SERVICES]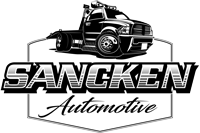 Great Experience! My first time having a vehicle repair at this shop and the people were friendly and most of all honest. Not only do they have their own towing service, which saved me time calling a tow company, but they also came up with a more efficient way to fix my vehicle which saved me money. I paid for my repairs feeling like I was truly cared for and taken care of. I highly recommend this shop!
Jaclyn M.