COUPONS
Auto Repair Coupons, Rebates & Offers


Check our coupons page and follow our tips below to help you save money on the cost of car repairs and maintenance.
Schedule a regular oil change at Sancken Automotive Inc in Eureka. It is the key to easy car maintenance and eliminating expensive engine repairs down the road.
Pay attention to the "service light" warnings on your dashboard. Responding quickly to a service light is often easy and affordable but ignoring a service light can greatly increase the cost of future car repairs.
Get to know your owner's manual. It is time well spent. The owner's manual contains valuable tips for keeping the cost of car maintenance and service affordable.
Discuss the details of needed auto repairs with your mechanic.
Call Sancken Automotive Inc in Eureka at 309-467-2422 for Coupons, Rebates, and Offers and keep your auto repair costs low!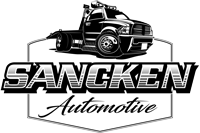 Great Experience! My first time having a vehicle repair at this shop and the people were friendly and most of all honest. Not only do they have their own towing service, which saved me time calling a tow company, but they also came up with a more efficient way to fix my vehicle which saved me money. I paid for my repairs feeling like I was truly cared for and taken care of. I highly recommend this shop!
Jaclyn M.