El Paso Auto Repair
Auto Repair Services Near El Paso, IL - Try Sancken Automotive Inc
If you are looking for an affordable and trustworthy auto repair shop in El Paso, we hope you choose Sancken Automotive Inc!
Sancken Automotive Inc is El Paso's number one choice for auto repair. Our staff is well-trained with the goal of consistent and great customer service. We are conveniently located near El Paso. Drop by the auto repair shop today at 609 W Center St, Eureka, IL, 61530 any time, or give us a call at 309-467-2422 and schedule an appointment.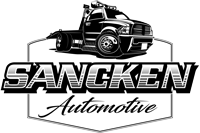 Great Experience! My first time having a vehicle repair at this shop and the people were friendly and most of all honest. Not only do they have their own towing service, which saved me time calling a tow company, but they also came up with a more efficient way to fix my vehicle which saved me money. I paid for my repairs feeling like I was truly cared for and taken care of. I highly recommend this shop!
Jaclyn M.