Woodford County Auto Repair
Find Woodford County auto repair services just a short drive away at Sancken Automotive Inc
If you are looking for excellent auto repair services in the Woodford County, IL area, make the short drive to Sancken Automotive Inc to find what you are looking for, along with outstanding customer service and vehicle knowledge. Whether it's brake repair, front end work or scheduled maintenance, we've got the skill and expertise to treat your vehicle right and to give you a great experience.
We know you've got options when it comes to auto repair. That's why we specialize in not only the repair work, but also in providing you the customer service excellence that you deserve to make everything go smoothly. We can't tell you that there won't be any surprises because we don't know what we are going to find on a vehicle until we get to look at it. But, we will communicate well and keep you updated on our progress.
Call us today at 309-467-2422, or stop by our shop at 609 W Center St, Eureka, IL, 61530, and let us ease your mind by making the repairs or conducting the maintenance that your vehicle needs to keep you safe and sound. We look forward to serving you!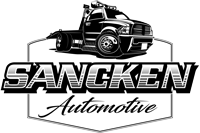 Great Experience! My first time having a vehicle repair at this shop and the people were friendly and most of all honest. Not only do they have their own towing service, which saved me time calling a tow company, but they also came up with a more efficient way to fix my vehicle which saved me money. I paid for my repairs feeling like I was truly cared for and taken care of. I highly recommend this shop!
Jaclyn M.