Tire Alignment and Tire Rotation Services
Correctly aligned tires will reduce tire wear and ensure that your vehicle travels without "pulling" to one side or the other. Let Sancken Automotive Inc's certified tire specialists rotate and align your car's tires during your next routine maintenance service. Our technicians use state of the art equipment to thoroughly examine your vehicle's tires for uneven wear, cracking, or slow leaks.

Avoid uneven tire wear and extend the life of your tires with a fast and affordable tire alignment at Sancken Automotive Inc in Eureka. Call us today at 309-467-2422 and schedule an appointment.

Our alignment services:
Alignment
Wheel alignment (or simply alignment) is standard car maintenance that involves adjusting the angles of the wheels so that they are set to the manufacturer's specifications. The main purpose is to let the suspension and the steering systems operate at their desired angles - this reduces tire wear. Alignment is a complicated process and not all mechanics get it right. To have experts handle your car's alignment, visit Sancken Automotive Inc.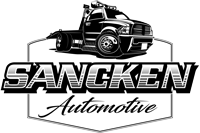 Great Experience! My first time having a vehicle repair at this shop and the people were friendly and most of all honest. Not only do they have their own towing service, which saved me time calling a tow company, but they also came up with a more efficient way to fix my vehicle which saved me money. I paid for my repairs feeling like I was truly cared for and taken care of. I highly recommend this shop!
Jaclyn M.